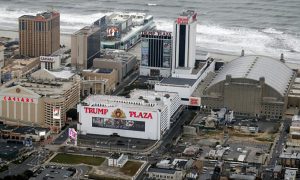 Even if it were not the former Trump Plaza, with its pending implosion a tempting symbolic echo of the end of its namesake presidency, people would be interested, Atlantic City Mayor Marty Small Sr. insisted Thursday.
But interest has been off the charts, he said, from all over the globe. Officials reluctantly canceled a high-profile auction to press the button to start the implosion that had garnered a high bid of $175,000 and interest from celebrities, after the building's current owner, billionaire Carl Icahn, objected to the spectacle.
But in true Atlantic City fashion, the city is pressing forward with its plans to make the implosion count.
A new date was announced Thursday: Feb. 17, at the very un-prime-time hour of 9 a.m. Icahn agreed to write a $175,000 check to the Boys & Girls Club, the intended beneficiary of the auction.
And a new auction was announced: to secure one of 10 viewing spots inside One Atlantic, a wedding venue on the end of the Pier owned by Caesars, with floor-to-ceiling windows, and an overnight stay in either Hard Rock or Ocean casinos.
Small said Atlantic City would be making Bader Field, the former municipal airport on the city's outskirts, available as a "pull up and watch" the Trump Plaza implosion, from a safe distance, and to discourage a crush of people near the site of the implosion.
Small downplayed the symbolism of the implosion, and said he was mainly interested in getting the blighted oceanfront structure in the center of Atlantic City down and open to new development.
"People tried to make it about President Trump," Small said. "Take that name off the building … people would be interested.
"We can't be naive to think that no one would show up," he added. "It has nothing to do with the former president."
Fire Chief Scott Evans said several blocks would be shut down in advance of Feb. 17, when the main tower will be imploded. The rest of the complex, not including another tower that is still home to a RainForest Cafe, will come down by demolition.
The auction house trying to raise money for the youth charity by soliciting bids to blow up the former casino once canceled the auction Monday after it said it received a cease-and-desist letter from Icahn.
Icahn's decision to personally make the contribution came shortly after Bodnar's Auction canceled its solicitation of bids, citing a letter from Icahn's company instructing it not to proceed with the auction because it considered the public "spectacle" to be a safety risk, with the possibility of flying debris injuring the person pressing the demolition button, or others gathered nearby.
"From the beginning, we thought the auction and any other related spectacle presented a safety risk, and we were always clear that we would not participate in any way," a spokesperson for Icahn said in a statement.
Small announced the auction as a fund-raising mechanism he hoped would raise in excess of $1 million for the organization.
Opened in 1984, Trump's former casino was closed in 2014 and has fallen into a state of disrepair. Demolition work began last year and has been ongoing, and the main tower has been draped in black netting. The remainder of the structure was to have been dynamited on Jan. 29, which struck many would-be button-pushers as a fitting exclamation point to the end of the Trump presidency.
But viewing plans for Feb. 17 have already begun, with some, including former employees, vowing to watch the building come down from nearby casino suites.
"As an Atlantic City native and former employee of Tr*** Plaza, let me just say how thrilled I am to see this monstrosity destroyed," one person tweeted. "It has been a blight for years. … I will be toasting it from a suite at Bally's."
*Article Courtesy of The Inquirer
For more information about the Atlantic City market or about any other Atlantic City commercial properties for sale or lease, please contact WCRE at 856-857-6300.
Wolf Commercial Real Estate, a full-service CORFAC International brokerage and advisory firm, is a premier Atlantic City commercial real estate broker that provides a full range of Atlantic City commercial real estate listings and services, property management services, and marketing commercial offices, medical properties, industrial properties, land properties, retail buildings and other Atlantic City commercial properties for buyers, tenants, investors, and sellers.
Please visit our websites for a full listing of Atlantic City market properties for lease or sale through our Atlantic City commercial real estate brokerage firm.