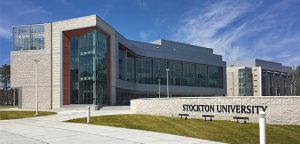 Stockton University has approved a long-term master plan that includes the expansion of its seaside satellite campus in Atlantic City, New Jersey, where it plans at least $154 million in new construction, as well as its main location in Galloway.
The university unveiled its 138-page update to its master plan this week in order to keep it "current should funding become available," Donald Hudson, Stockton vice president for facilities and operations, said in a statement. The plan projects development into the next decade.
Stockton's core new projects in Atlantic City include: a second residential building as part of its public/private partnership with Atlantic City Development Corp., known as AC Devco; an addition to its Academic Center; a Coastal Resiliency Center; and a mixed-used residential/commercial complex.
AC Devco developed the first phase of the Atlantic City Gateway initiative, which opened in fall 2018. It includes Stockton's campus on the boardwalk of the gambling mecca, South Jersey Gas' headquarters and an AtlantiCare Urgent Care. Stockton Atlantic City has an academic building, a 533-bed dormitory and a parking garage.
The new student residence hall will be constructed in the University District, at the site of the Eldredge building at Atlantic and South Providence avenues, across from O'Donnell Memorial Park and near the Atlantic City campus. The project, with an estimated cost of $60.5 million, is set to begin Oct. 14.
"This Phase II investment will join South Jersey Gas and AtlantiCare to further enhance the Chelsea neighborhood," AC Devco President Christopher Paladino said in a statement Tuesday.
The 135,000-square-foot building will feature apartment-style residences with a total of 416 beds. The property will also include a lounge, meeting room and laundry facilities. Residents will have access to parking in the existing parking garage.
Atlantic City, the nation's second-biggest casino market behind Las Vegas, had been on a comeback, with a number of its casinos being revived, when the coronavirus pandemic hit. Its casinos were forced to temporarily close because of COVID-19, dealing the gaming industry a big setback. But even before the COVID-19 outbreak, Atlantic City was looking to depend less on gambling for its economy and to draw other kinds of businesses, such as education and healthcare.
"It is more important than ever to create a more diversified economy in Atlantic City," Stockton President Harvey Kesselman said in a statement. "The new residence hall will give even more students the chance to live, learn and earn in Atlantic City."
The projected cost for the coastal center is $40.9 million, and for the academic-center expansion it's $52.7 million.
An aerial rendering shows Stockton University's main campus in Galloway with all its proposed academic and athletic expansion. (Stockton University)
On Stockton's Galloway campus, the proposed core new projects include:
The fourth building to complete the Academic Quad.
A new welcome center, which would be added to the existing campus center and serve as a central welcoming point for admissions and visitors.
Additions to the sports center, including an aquatic center.
Expansion at the north athletic campus, including a field house and pavilion.
A 1,200-vehicle parking garage.
Additions and renovations to the existing academic buildings.
Opportunities for private and public/private commercial and residential development.
According to the master plan, the projected costs include: the fourth academic quad building, $65.5 million; field house, $45.4 million; addition of the pavilion, $42.3 million; parking garage, $32.5 million: and the welcome center, $3.8 million. The three phases of the sports center expansion will total $93.2 million.
The original facilities master plan was completed in 1990 and was updated in 2010.
For more information about the  Atlantic City market or about any other Atlantic City commercial properties for sale or lease, please contact WCRE at 856-857-6300.
Wolf Commercial Real Estate, a full-service CORFAC International brokerage and advisory firm, is a premier Atlantic City commercial real estate broker that provides a full range of Atlantic City commercial real estate listings and services, property management services, and marketing commercial offices, medical properties, industrial properties, land properties, retail buildings and other Atlantic City commercial properties for buyers, tenants, investors and sellers.
Please visit our websites for a full listing of Atlantic City market properties for lease or sale through our Atlantic City commercial real estate brokerage firm.